Five Tipperary men were elected in the 1918 General Election, which saw Sinn Féin sweep to victory at the expense of John Redmond's Irish Parliamentary Party. Four of those were elected to the four Tipperary constituencies of Mid Tipperary (Seamus Bourke), Tipperary North (Joseph McDonagh), Tipperary South (P J Moloney) and Tipperary East (Pierce McCan). In addition to these four a fifth Tipperary native was returned for the Dublin Harbour constituency – Phil Shanahan.
Moloney, Bourke and Shanahan were the only three able to take their seats when the Dail convened in the Round Room of the Mansion House on 21 January 1919 – some two hours after the hills of Tipperary had resounded to the opening shots of the War of Independence. When the names of their fellow TDs, Joseph McDonagh and Pierce McCan, were called by the Clerk of the Dáil, the answer 'faoi ghlas ag Gaillimh' – imprisoned by the Foreigners – was given on their behalf.
Much has been written about the four men who represented the Tipperary constituencies, but not many know about the Dublin TD – Phil Shanahan. Born in the village of Hollyford in 1874, he played inter-county hurling for Tipperary, before moving to Dublin to take up employment in the Licenced trade. Shanahan purchased a pub on Dublin's north side at 134 Foley St – in the heart of the 'Red Light' district of Monto. Joining the Irish Volunteers shortly after their formation in 1913 he was involved in the 1916 Rising, serving in Jacobs Factory under Thomas McDonagh. At forty-two years of age, he was not your typical rebel – a fact remarked upon by Tim Healy – whom Shanahan employed as his solicitor when the Crown opposed renewing his publican's licence on account of his Sinn Féin activities.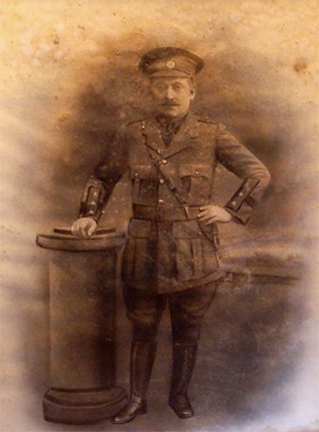 Many British soldiers home from the front parted with their rifles, while visiting Shanahan's and it was a regular meeting place for Michael Collins and members of 'the Squad'. It was also a drop-off point for weapons smuggled in through the Dublin Docks.
In the 1918 election Phil Shanahan defeated the popular Dublin politician and Lord Mayor, Alfie Byrne. He served as a TD until 1922 and supported the anti-Treaty side in the Civil War. Retiring from the licenced trade in 1928, he sold the Foley St pub and retired to his native Hollyford, where he died in 1931.
The original pub is long gone, a victim of urban regeneration and development. In its stead stands the LAB gallery, an initiative of Dublin City Council. Phil Shanahan and the pub where the clandestine affairs of a revolution were undertaken are remembered by a plaque on the side of the building.
JF